Native Americans are now highly regarded for their silversmith skills. Depending on the tribe in question, people can expect to see a variety of overlay or underlay techniques use to recreate symbols and patterns that reflect their culture.
Of course, on such symbol is the mighty bear. Typically, a symbol of strength, endurance, and courage this mighty beast as proudly been adorned on some of the finest Native American jewelry imaginable, set into beautiful sterling silver. There are a few common pieces that the tribes will use when they bring these animals to life in their jewelry; below are just a few examples.
Native American Bear Ring Jewelry
Taking a brief look at Native American culture, it's easy to see how important working with one's
own hands can be. The bear symbol set into a sterling silver ring is a wonderful way to reflect traditional Native American values in a minimalistic way. Artists will usually shape the outline of a bear and combine that with traditional Native patterns for a look that is truly unique.
Native American Bear Buckle Jewelry
A popular style of the Southwest, sterling silver belt buckles is another common Native art form that uses traditional silverwork with Native American culture to produce outstanding artwork. Belt buckles utilize similar techniques of silverwork to produce the patterns and symbols of Native American culture. Artists that make Native belt buckles will
sometimes incorporate more symbols to arrive at a deeper meaning with the extra space they are given for this type of canvas.
Native American Bear Bracelet Jewelry
One of the most popular jewelry types that are common among Native American artists and designers are bracelets. These too hold the same techniques, patterns, and symbols, but also allow artists a little more room for creativity with the design of the bracelet, along with the imagery on it. With multiple styles of bracelet to use, such as cuff, adjustable, linked, etc. artists have the creative freedom to explore different approaches bringing their bear symbol to life. Like the example below, artists can use scenery, bear paw, and bear symbols to tell a story with their piece.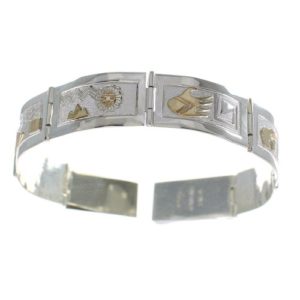 The bear symbol is a proud and noble figure in Native American culture and demands respect. For those that choose to wear such a powerful figure, it's believed they will be blessed with similar traits of strength, courage, and protection. To see authentic Native American jewelry, people can browse, here.